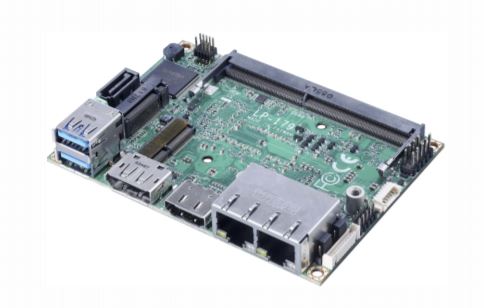 Commell LP-179: Industrial Motherboard for the Intel Tiger Lake Processors
Posted on July 10, 2021
With the launch of Intel's new Tiger Lake processors for ultraportable devices, embedded computers are headed for a tectonic shift. The new chips bring a host of new features for industrial systems, from superior integrated graphics to powerful quad-core processing. 
At the forefront of this change is the Commell LP-179. Created upon the Pico-ITX form factor, the motherboard offers the perfect framework for building high-performance embedded systems for industrial and commercial applications.
But how does it improve upon existing offerings? Is it really suited for industrial applications? Let's take a quick dive.
Features
11th-Gen Tiger Lake Processor
The key feature of this new board is the Tiger Lake processor. Designed especially for low-power devices, these 11th-gen CPUs offer clock-speeds up to 3.0 GHz on just 28W. For particularly energy-sensitive tasks, this can be reduced to 12 W through a lowered frequency.
The i5 and i7 base models are quad-core processors. Combined with Hyperthreading, these CPUs can run eight threads, emulating an octa-core chip. This puts these processors at the top of the ultraportable market, besting AMD Ryzen on single-core performance.
Iris Xe Graphics
Integrated graphics are usually not good enough for anything but the most basic tasks. The latest generation of processors from Intel, however, is cut from a different mold.
Instead of the usual Intel HD graphics included in most Intel chips, the 11th-generation i5 and i7 use the new Iris Xe integrated graphics. The performance if this GPU is remarkably better than anything else in the market, matching entry-level discrete graphic cards.
Not only does this make the Commell LP-179 a great board media-intensive applications like arcade machines, but also suitable for AI-heavy tasks as well.
Compact Form Factor
The Pico-ITX is the smallest form factor outside mobile phones, and perfect for all types of industrial applications. The small size and smaller energy footprint meant that it can be integrated seamlessly into every situation; surveillance systems, smart kiosks, in-vehicle systems, industrial automation… there is no commercial application you cannot use it in.
And unlike many other Pico-ITX boards, there is no performance tradeoff. Be it graphics, memory, clock speed, or just the number of ports, the LP-179 uses the best technology in each category.
Multitude of I/O Options
Input/output ports are very important for embedded computers. Depending on the setup they are slotted into, they might need to interface with a wide variety of devices, ranging from displays to peripheral devices.
To this end, the Commell LP-179 sports every type of connectivity option. Apart from external HDMI and USB ports, the board uses M.2 slots to support Wi-Fi and 4th-generation PCI-Express. There are also a couple of LAN and DisplayPorts to accommodate legacy hardware, so the board can fit into every setup.
Applications
Industrial Automation
Industrial automation requires high-performance processors. The workloads are complex, calling for CPUs with decent clock-speeds and capable of supporting similarly high-speed memory.
And that is just what the Commell LP-179 provides.
Built with the Pico-ITX form factor that is the standard for industrial integration, the LP-179 can easily replace your existing boards without any fuss. Better yet, the Xe integrated graphics remove the need for any discrete graphic cards for AI-focused systems.
Surveillance Systems
Surveillance setups are tricky for embedded computers. On one hand, an incredibly high level of processing power is required, on the other, the energy footprint (and physical size) needs to be small. Then there is the question of video processing and image-recognition algorithms, which usually need a discrete GPU to work.
But with the LP-179, all these requirements are neatly addressed. Even better, the board is small enough for outdoor deployments, with a high tolerance for heat.
Media Panels and Smart Kiosks
For many years, installing computing systems to power media applications has been an expensive affair. To output high-resolution video output to multiple HD screens, a powerful graphics card is required.
But not anymore.
With the Iris Xe graphics, integrated GPUs have reached a level where they can perform on par with an entry level discrete graphics card. And this performance is delivered at a much lower power consumption, saving energy bills and cooling costs as well.
For best results, the Commell LP-179 should be paired with an i7 model and at least 8 GB of DDR4 RAM. This gives it enough processing power and memory to deal with intensive media processes smoothly.
Conclusion
The Tiger Lake processors are quickly becoming the default chips used in all kinds of portable devices. From laptops to embedded computers, every manufacturer is adopting these chips for their new lineups.
And with good reason; the significant improvements offered by the processors along with the long lifecycle of the series makes it a great investment for any commercial setup.
The Commell LP-179 is designed as the perfect board for any industrial application. Small and efficient, it produces very little heat and can slot into cramped spaces. There are a variety of ports to interface with peripheral devices, and integrated graphics capable of replacing an entry-level GPU.
So what are you waiting for? Upgrade your systems to the LP-179 and tap into the advantages offered by Intel's new lineup.