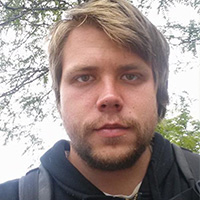 Employee Spotlight – Dustin Barclay
Posted on December 2, 2019
Hello! My name is Dustin Barclay and I am a Hardware Technician at Global American Inc. I have been working here for almost three years, and it has been an amazing experience. I have always had an interest in computers and built my first one with my grandfather when I was 10 years old. Ever since, I have been tinkering with electronics and hardware learning as much as I possibly could. Now I get to build machines every day, and it's always exciting.
One of my favorite aspects of the job is to troubleshoot and solve problems so our customers receive a well-built and high-quality system. It is akin to solving a puzzle, with all of the pieces laid out before you. Putting the pieces together properly and getting systems to sing is highly rewarding.
Recently, I have started assisting with updating products on the Global American website. Working in Web is relatively new to me but branching out and learning new things is always engaging and fascinating.
Fun Fact: I love traveling internationally and visiting old friends along with making new ones. I have been to 10 countries outside of the US and counting. When I am not traveling, I am usually at home playing music, games, or just relaxing with my cat Cass, AKA Catman, AKA Mr. Kitty.