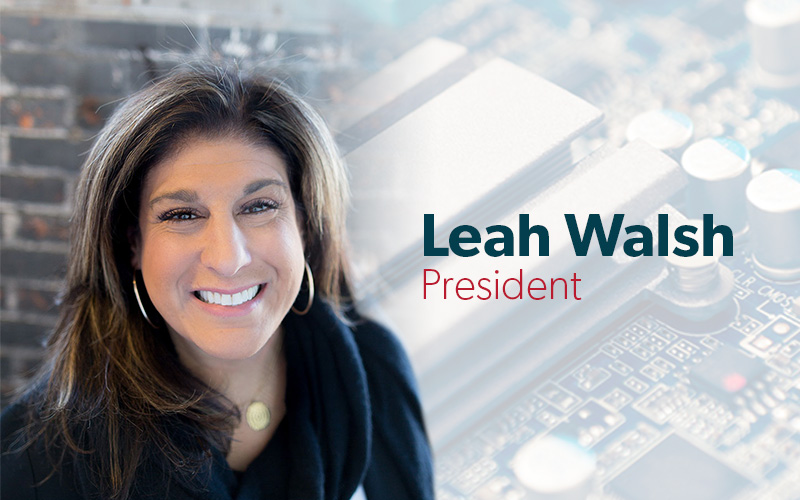 Employee Spotlight – Leah Walsh
Posted on August 26, 2020
"What's an Industrial Computer?"
This was my question to Nizar almost 14 years ago when he asked me to come work at Global. I pursued a Liberal Arts degree with a major in English Journalism at UNH, had my own byline as a feature writer in the Boston Globe, and then moved on to a career in advertising, but computers (or anything having to do with them), weren't something I ever considered in my skill set. I always was the one in my family to troubleshoot the laptop or hook up the cable, but I never thought I would end up working with computers–and certainly not loving it as I do.
My father insisted I learn the company from the ground up; so, I started doing some marketing and website work, grew into managing operations, and finally, with his retirement, I became President of Global.
Back when I started, we called them Industrial Computers, and what we did consisted of backplanes, slotted SBCs, and large enclosures. I've seen the industry grow and change so much. Today it's smaller, faster, cooler, fanless, etc. We still specialize in legacy products, but we also provide some of the most state of the art Embedded, or IoT, motherboards, and systems. Every day is still a learning experience for me.
My favorite part of coming to work is our customers. I'm very hands-on in my role and like to have communication in a sales and service capacity. I still manage a handful of our customers myself since I've built such solid relationships with my contacts in purchasing and engineering over the years.
Our team makes me so proud every day. I'm always amazed at how our group operates as one cohesive unit–so efficiently, but always with a smile.
Nizar would be horrified to know that we are a very dog-friendly office, and I encourage my staff to bring their furry friends to work. I have two black dogs, Carl, who is 5 years old, and Gus, who is only 5 months. They greet everyone at the door every morning, and nothing says hello like a butt wiggle. In my spare time, I love to garden and watch reruns of The Office. I'm a proud mom to a 16-year-old who keeps me on my toes every day.