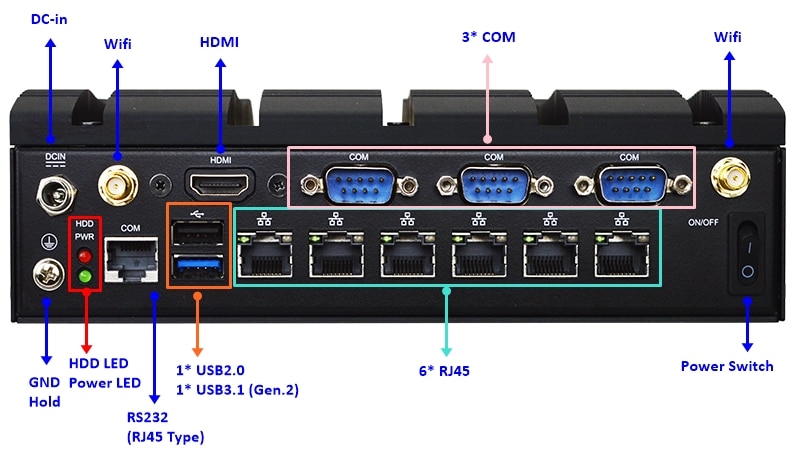 Fanless PC for Networking Systems
Posted on June 1, 2023
Surveillance and other networking applications require a very specific combination of features – a large number of LAN ports, a low-power processor, and fanless cooling for a rugged, compact chassis.
The HBJC903i05 checks all these boxes, making it the ideal PC for powering any networking-heavy interface. Let's take a deeper look at its features.
6 x 2.5GbE
The potential of any networking computer depends on the number of high-quality Ethernet connections it can support. Most standard embedded PCs are limited to one or two, which isn't good enough for these applications.
The HBJC903i05 features six high-speed Intel LAN ports, making it capable of servicing multiple network channels at once. This makes it particularly well suited for building surveillance systems, as the high rate of data transmission can only be met by wired connections.
Flexible M.2 Interface
Unlike most networking computers in the market, this new build uses M.2 interfaces. This gives a lot of flexibility in customizing your system, as the differently keyed M.2 interfaces can be used to install a wide variety of peripherals.
The HBJC903i05 comes with three different M.2 slots; a B-Key, an E-Key, and an M-Key. This means you can extend the system with virtually any kind of expansion card, whether it is wireless networking, SSD drives, or extra I/O ports.
Latest Elkhart Lake Processor
SoC or System-on-a-Chip processors are designed especially for compact embedded systems. These chips integrate much of the core functionality of a motherboard into the microprocessor wafer itself, saving space and reducing the complexity of the rig.
The HBJC903i05 is powered by the latest Elkhart Lake based SoC processor from Intel. This 6th generation Atom processor offers 2 GHz Quad-Core performance at a TDP of merely 10 Watts, making it an extremely energy-efficient processor.
Trusted Platform Module (TPM)
Any computer meant to implement a surveillance system needs top-notch security. And with hackers learning to use even malicious firmware to gain access to crucial systems, Trusted Platform Module (TPM) is a must.
To this end, the HBJC903i05 comes outfitted with Intel TPM 2.0, allowing only trusted computer firmware to be installed on the system. For even more watertight security, you can also get the Onboard NUVOTON TPM v2.0 installed.
Wide Temperature Range
Usually, networking PCs have to run continuously. Thanks to the implementation of fanless cooling, the HBJC903i05 can operate smoothly up to 60℃ without any drop in performance.
As for colder climates, the computer can handle subzero temperatures as well, functioning perfectly at -20℃. The compact design also protects it from humid environments, rendering the system good for all kinds of weather and climatic conditions.
Comprehensive Certifications
Industrial computers have to adhere to many different standards to ensure safety and quality. There are often separate standards applying to individual components, making the process of obtaining all the certifications a complicated process.
Luckily, at Global American we make sure to comply with all the necessary standards for every piece of equipment. Along with the standard CE and FCC compliance, the HBJC903i05 is RoHS certified as well as ErP ready.
Is the HBJC903i05 Worth It?
Standard embedded PCs aren't suitable for any networking-heavy task due to the lack of the necessary number of Ethernet ports. The HBJC903i05 solves this problem by offering six high-speed LAN ports, along with a bevy of other I/O slots to allow interfacing with all sorts of hardware.
But these features can be found in other networking PCs as well. What makes the HBJC903i05 special are its other features.
The rugged chassis along with the fanless cooling make the computer suitable for harsh environments as well, which many surveillance systems have to withstand. On top of that, the HBJC903i05 comes with three differently keyed M.2 slots, allowing you to add any expansion card required.
All of these factors make this system uniquely suited for any application requiring large network interfaces.