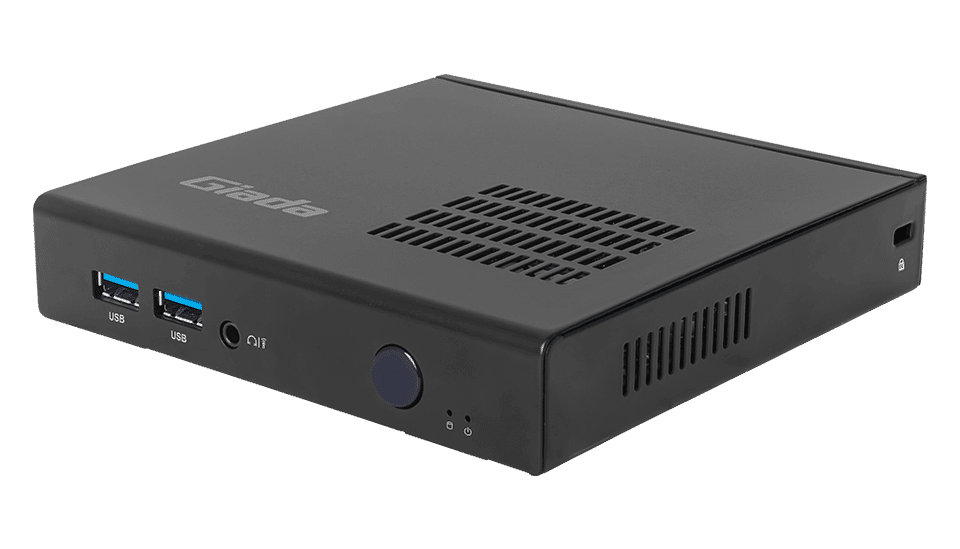 Giada DK310 Digital Signage System
Posted on August 10, 2022
It may not seem like it, but a digital signage system is one of the most demanding applications for an embedded computer. Apart from requiring powerful video processing capabilities, these systems are often mounted at higher elevations and must keep working for long periods of time without maintenance.
Because of this, only a few specialized systems are suitable for powering a digital signage board. One of them is the Giada DK310.
With its slim form factor and high-performance components, the DK310 can be the perfect embedded computer for digital signage boards deployed in all kinds of applications. Here is an overview.
Features
4K Ultra-HD Graphics
The graphics quality might not seem like a big deal, but the larger size of digital signage boards makes it important. Unless your embedded computer can output a resolution of 4096 x 2160, it wouldn't be easily readable at a distance.
The Giada DK310 uses the improved 10th Gen Intel UHD graphics to render these graphics, giving smooth framerates even at 4K.
Dual Display Support
The ability to power two displays at once is a big advantage for a digital signage system. It allows you to double the display area without having to invest in another embedded computer.
Both the HDMI 2.0a and DisplayPort 1.2 standards are supported in the Giada DK310, allowing for screens of all types to be connected with it.
Low TDP High-Performance Processor
The Giada DK310 is powered by the 10th Gen Elkhart Lake processors, designed specifically for embedded devices. The chips in this lineup boast of improved performance at a lower TDP (Thermal Design Power), essential for most commercial activities.
The lower power load translates to decreased heat production, improving the product's life and ensuring that it works without throttling even in outdoor conditions. The fanless cooling system employed in the DK310 further reduces the power draw, saving costs in the long run.
Long Life Cycle
Product life cycles are an important consideration for any industrial or commercial application. Installing a device that is at the tail-end of its lifecycle makes maintenance difficult once the official support gets withdrawn.
But the Giada DK310 does not use any outdated components. The embedded computer is designed to leverage product generations that are being actively updated, and receive timely technical support.
Applications
Healthcare
Telemedicine has been quickly gaining steam as a preferred mode of treatment thanks to the conditions imposed by the pandemic. Even when patients are being treated on the premises, a clear and transparent way of displaying information is always handy.
Retail
Advertisements are probably the most obvious use case of a digital signage system. Using the right software in conjunction with an embedded computer like DK310, it is possible to serve interactive experiences that greatly boost consumer engagement.
Restaurants
Digital menu boards are a great application of digital signboards. They are more eye-catching and easier to parse than a printed sheet stuck in poor lighting. Computerized signage boards can also be used to display order status, giving waiting customers a more accurate look at their waiting times.
Transportation Hubs
Be it airports or railway stations, digital signboards are crucial for the smooth functioning of any transportation service. These smart boards can be used as Passenger Information Display Systems (PIDS), showing updated vehicle schedules to all passengers. Bus stops often employ such systems to provide live traffic maps with estimated ETAs of the buses plying on different routes.
Education
People have been waking up to the potential of integrating technology in classrooms for a while now. In this increasingly digital world, audio-visual content goes a long way in making lessons more engaging and understandable. Digital signage systems offer an easy way of doing just that, especially in courses where 3D models can help explain concepts more clearly.
Verdict
Digital Signage systems aren't just a case of plugging a display into just any embedded computer. The board should be able to function for long periods of time without maintenance, besides having a low energy and heating footprint.
The Giada DK310 is well equipped to deal with these challenges and provide optimum performance. Its dual display support allows for very cost-efficient deployments, without sacrificing video resolution or quality.
For applications requiring wireless connectivity options, it can be customized with an M.2 WiFi 6 module as well. Along with its multiple IO options, this makes the DK310 the perfect choice for a digital signboard.