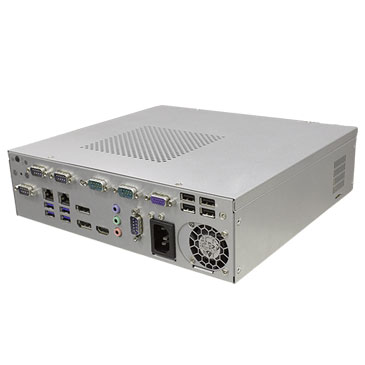 How the MiTac E600 Can Boost Your Industrial System
Posted on February 10, 2021
MiTAC E600
Industrial and frameworks are known to be reluctant to change, hanging on to legacy systems as long as they don't outright stop working.
And with good reason; transitioning to a new system is not as simple as plugging in a new computer, but often requires widespread changes throughout the framework to integrate with the new technology.
But what if it was that simple? What if you could just plug in a new embedded computer to power your applications, giving you a direct performance boost?
That's what MiTAC's E600 is all about. Loaded up with the latest technologies like M.2 and TPM, the E600 combines new features with widespread compatibility, allowing it to be slotted into any existing framework without issues.
But is it really worth it? Here is a breakdown.
Features of the E600
Coffee Lake Processor
Intel's Coffee Lake lineup of processors is perfectly suited for embedded systems. The Coffee Lake processors consume less power while giving a significantly improved performance over their predecessors.
With the new processors comes the new Intel H310 chipset as well, with better features and smoother memory pathways. MiTAC's E600 is one of the few embedded computers to take advantage of the Coffee Lake series, along with faster memory that can keep up with its computations.
High-speed Memory
Many legacy systems still operate on DDR3 memory, which apart from lacking the capacity of newer memory modules, is also much slower. The MiTAC E600 uses DDR4 RAM, with much faster access speeds, allowing complex software to run in real-time without any lag.
With two SO-DIMM slots, it can accommodate up to 32 GB of memory, which is more than enough for even the most memory-intensive applications.
Trusted Platform Module
Privacy and data security are becoming more and more important with every passing year. Hackers are routinely breaking into 'unbreakable' systems, stealing critical information, and gaining control of servers.
While antivirus software is certainly needed, the fact remains that it is ineffective in stopping viruses that burrow into the system code itself.
This is where Intel's TPM or Trusted Platform Module technology comes in. TPM secures a computer system by verifying the firmware every time the system boots, preventing access if any discrepancy is detected.
As this module is baked right into the motherboard, it cannot be tampered by a virus, and the use of a cryptographic key prevents any loss of information.
Dual Display
Many commercial applications require a computer to power two displays at once, and the E600 is here to oblige.
Whether your display uses HDMI, VGA, or the standard DisplayPort, the E600 can support any two of them simultaneously.
Multitude of Ports
Any computer meant for an industrial or commercial application needs to interface with many different devices. An embedded PC monitoring the surveillance network of a store, for example, will need to connect with multiple cameras and related equipment.
To this end, the E600 has dozens of different kinds of ports, from COM to USB (both 3.0 and 2.0) and RS variants (RS232/422/485) as well. This gives you enough leeway to integrate the E600 in any existing setup without any radical changes.
M.2 Expansion Slot
The new M.2 expansion slot is changing the way extension cards are being attached to computer systems. It allows for faster hardware to be used, as well as allowing versatility in which extension is selected.
Its most well-known use case is to install SSD drives. Usually, SSDs end up performing at a fraction of their true capability because of the limitations of the SATA interface. With M.2, there is no such restriction.
Speed, more than storage capacity, is the key factor in any commercial application, and with the M.2 slot, long term storage performs almost as fast as primary memory.
Network cards too can be installed using the same slot, giving the embedded system access to wireless networks without sacrificing the speed that comes with a wired connection.
Supports both Windows and Linux
Both Windows and Linux have their own use cases in commercial applications. Linux is good for servers and low-level computing infrastructure, where the only ones operating the systems are network engineers.
Windows, on the other hand, is great for enterprise solutions where non-technical users are meant to operate the computer systems.
The E600, therefore, allows you to choose any of the two operating systems, configuring the embedded computer to your needs.
The Verdict
MiTAC's E600 is a versatile computer with top-notch hardware. It can power any business application, from a smart kiosk to automation tasks, ensuring smooth and lag-free performance in every activity.
Whether it is its Coffee Lake processor or M.2 expansion slot, every feature of the E600 uses the latest technology. It has enough ports to connect with all the devices you might have, and the processing power to coordinate the multiple inputs and outputs easily.
The E600 is therefore the perfect choice for any industrial or commercial activity.